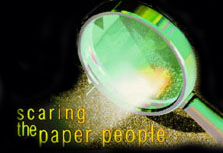 Rude Awakening
Mitch Urban - Vocals
Bill Sablan - Guitar
Robert Ryder - Bass
Joey Ballard - Drums

It might be said in some quarters that Rude Awakening is a throwback to the eighties, a band with scant relevance to today which should be allowed to gracefully fade away. But the band's five members aren't subscribers to such negative thinking; they truly believe in their band and their music - in fact more so now than ever - and moreover they know that there is an audience for their music, whatever the arbiters of taste may prefer to believe.
"Put our CDs in a record store and they will sell", points out bassist Robert Ryder; he and his band mates have a long and successful track record for marketing self-funded releases, five of them having preceded the band's just-released debut for Nidus. But as well as sheer persistence, this release also pays tribute to the band's open-mindedness, for it is the first fruit of a new relationship with producer Lee Popa (White Zombie, Ministry) which has brought significant changes in the band's music.
The band was actually formed in Virginia in 1984, part of the same scene which yielded Gwar and a number of alternative success stories. Rude Awakening has always aimed to keep moving forward but in the early years there were miscues too, like an abortive move to New York. and then the loss of Ryder's founding partner, drummer Joey Ballard, when his girlfriend objected to the 1988 relocation to Los Angeles.
Ryder never gave up, and the band's profile continued to rise along with music which continued to develop. To this day he believes that this slow, steady progress is what has kept the band together. "There's always been a continual flow of new material which consistently pleases us. Each of us is good at coming up with things the rest of us are impressed with, and as long as we keep on coming to rehearsals with smiles on our faces, knowing that we're going to enjoy the next four hours, this band will always continue." Eventually Ballard returned to the fold, choosing band over girlfriend, and a solid line-up was soon locked into place; indeed the current players had already recorded two successful albums together before Lee Popa came into the picture.
Rude Awakening wasn't the first band to attract Popa's attention, but it was the first to truly heed his words. The band's affection for classic metal in the vein of Iron Maiden and Black Sabbath is not something they would ever want to disavow, but equally the band's insistence on continuing to progress meant that when Popa told them their sound needed updating, they were ready to listen.
"It's hard for a band to be objective about its music", notes Ryder, "but we understood his reasoning, and none of us had a vision as clear as his about what needed to be done to keep Rude Awakening relevant"
"We've always been able to have something happening with the band, one thing or another which will keep our motivation up, and now here was a producer with a strong track record who wanted to make some changes. So it wasn't really a huge departure, just another stage in the progression of the band."
"He's given us a new viewpoint on song structure, stripping everything away to the point where you can clearly see what the essentials are. We had fallen in the L.A. trap, tending to get too elaborate because we were worrying about impressing all the other musicians who come to shows, when we should have been worrying about reaching out to our core audience."
As a result of Popa's work with the band, Rude Awakening now represents a juxtaposition of old and new. The songwriting (to which all five members contribute) has been refined and honed under the producers tutelage, and modern musical elements have been drafted in to eliminate any traces of predictability. The result is a refreshing new approach to a form of music nearly as old as - but nowhere near as respected as - rock and roll itself. The band is modest enough not to make bold claims of innovation, but the fact is that their chosen policy of always moving forward, even if only taking small steps, has brought them to a point where they really are attempting something new; twelve years in the making, their new album may not represent a fresh new band, but it certainly marks a fresh new approach. And, they hasten to point out, this is only the first phase of an ongoing transformation...
NIDUS Productions
4821 Lankershim Blvd Suite F
North Hollywood CA 91601
PH 818-515-7600
FAX 818-505-8291
Rockline [US] 213-994-RUDE (7833)

bob@nidusprod.com

home